This article aims at providing a route for an intellectual journey through Public Administration. For educational purposes, I have designed a series of three lectures, whose themes are interrelated and to date relevant in the field. The main title of the series is "Changes and current challenges in Public Administration: focusing on the shifts in management modes of public service organizations, value generation logics of public service delivery, and performance management applied to governance"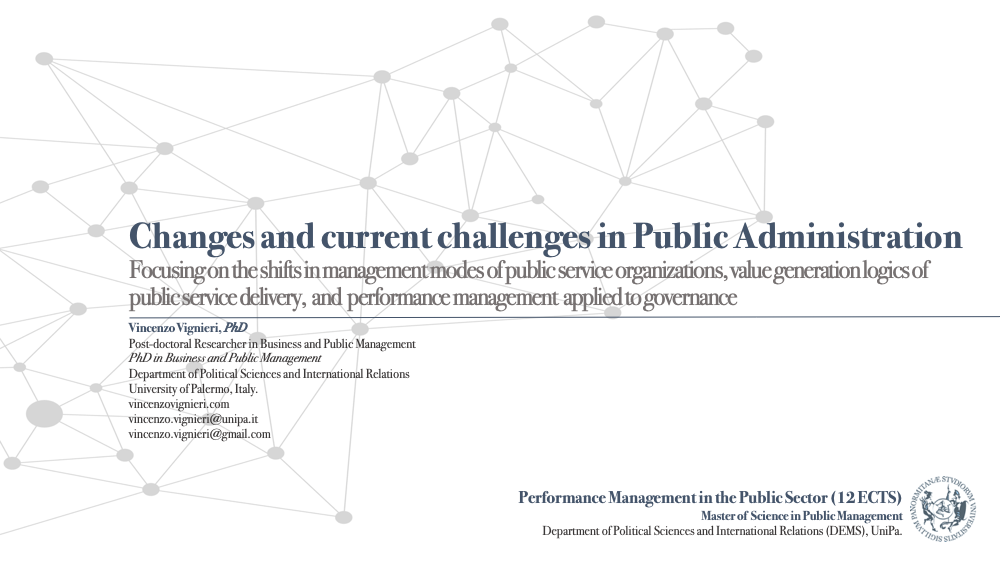 Particularly, the series cover: the shifts in dominant modes of Public Administration, value generation logics in public service delivery, and challenges for performance management in the context of governance.
This article works as summary of the journey through Public Administration. Here are provided direct links to each lectures, whose posts collect introduction to the lecture, teaching notes, slides, and a list of suggested readings. All the files have been actually used in a course for Master Students in Public Management.
The lectures series includes the following titles:
The first lecture is an introduction to the field of Public Administration and explores the shifts in management modes of Public Sector organizations from both a theoretically and practical perspective. Particularly, it reviews main drivers of changes from Old Public Administration, to New Public Management, and Public Governance. The ascent of governance, as a dominant mode in Public Administration uncovers two relevant areas of research which are covered by the second and the third lecture, respectively. The second lecture investigates current debate on the logic behind public service delivery with a focus public value improvement; the third lecture deals with the role of Performance Management as an effective method to support the governance of a policy field.
This work is licensed under a
Creative Commons Attribution-NonCommercial-ShareAlike 4.0 International License
.